Aaron Capuano, M.D., F.A.C.S.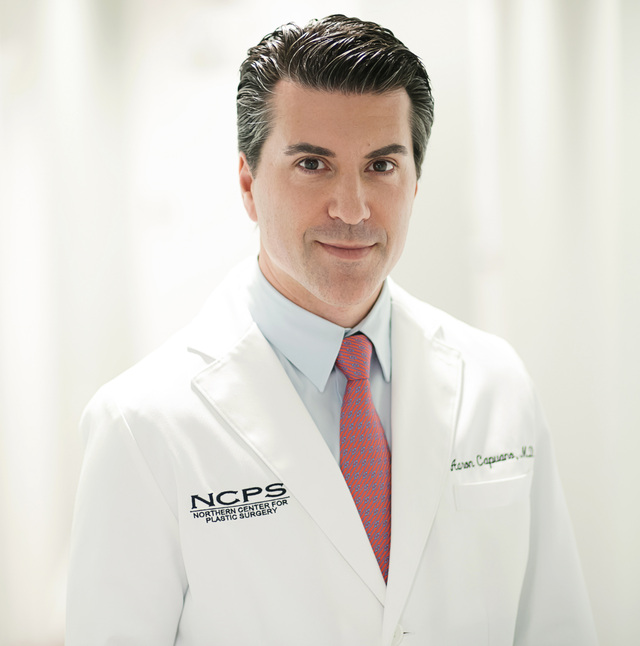 Dr. Aaron Capuano is a double Board Certified Plastic Surgeon, based in Bergen County NJ, with over eighteen years of surgical experience. As of May 2023, Dr. Capuano is the President-Elect of the New Jersey Society of Plastic Surgeons.
Dr. Capuano has earned numerous awards and honors throughout his career including NJ Top Doctors in Plastic Surgery and Bergen County's Top Doctor's in Plastic and Reconstructive Surgery. Dr. Capuano specializes in specific cosmetic surgeries of the face, breast and body as well as Breast Reconstruction following surgery for Breast Cancer. His experience with Cosmetic & Reconstructive procedures, solid reputation in the community, and focus on continuing education, means that you can rest easy knowing you are in proficient, caring hands.
Prior to entering Medical School, Dr. Capuano received a degree in Biochemistry from Syracuse University. He then worked for two years as a research scientist at Brown University. Dr. Capuano then went on to Georgetown where he earned a Master's of Science in Biophysics and Physiology. Following Medical School, Dr. Capuano served his General Surgical Residency at Drexel University at Monmouth Medical Center where he also served as Administrative Chief Resident. He worked at Sloan Kettering in NYC to gain experience in Surgical Oncology. He also volunteered at the Hospital de la Familia's Surgical Mission to Guatemala. Dr. Capuano then completed his Plastic Surgery Residency at the Detroit Medical Center and Beaumont Hospital, Wayne State University.
Dr. Capuano founded the Northern Center for Plastic Surgery, in Bergen County NJ, a highly patient centric practice with a dedicated patient care coordinator, a pre & post-operative concierge service, and advanced scar therapy regimens to help provide you with the best quality of care before, during and following surgery or treatment.
Dr. Capuano's primary objective is to provide every patient with individualized treatment based on his or her own personal concerns and to deliver the most natural surgical result possible. To accomplish this, Dr. Capuano pays close attention to the most vital and minute details regarding each surgical or non-surgical intervention. Our team at the Northern Center for Plastic Surgery in Bergen County, NJ is friendly and professional, and strives to provide exceptional skill and service in all aspects of Cosmetic and Reconstructive surgery done by, plastic surgeon, Dr. Capuano.
Our commitment to our patients, conscientious staff and dedication to education in our field keeps us motivated, diligent, and abreast of the newest advancements and protocols that plastic surgery has to offer. By staying current with new advancements, and critically evaluating them, we can offer our patients in Bergen County NJ, and worldwide, the safest and most reliable procedures to meet their goals.
From the moment you book your consultation or walk into one of our Bergen County, NJ, offices, you have our undivided attention. We will spend the necessary time to truly understand your aesthetic goals. We will treat you as if you are a member of our own family. We want to express our commitment by extending our unique services and results to you. If you are looking for a plastic surgeon near you, we are here to satisfy your goals. We also offer a full suite if laser procedures and other medspa services like hydrafacials, vampire facials and lymphatic manual drainage massages as well as additional non-invasive and minimally invasive procedures invluding laser hair removal and laser skin resurfacing. Simply call/text our office for an apointment at 201-820-5280 or ask Siri to help you find a plastic surgeon near me.
Click here for Dr. Capuano's CV